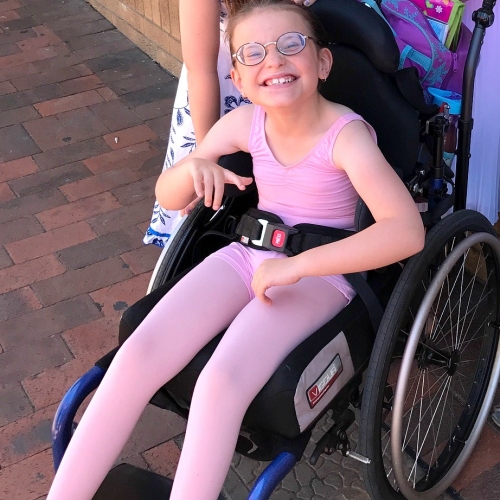 Melinda
Melinda was just three months old when she was diagnosed with Joubert Syndrome.
It is a rare disorder of brain development that may affect many parts of the body. It is characterised by the absence or underdevelopment of the cerebellar vermis (a part of the brain that controls balance and coordination) and a malformed brain stem (connection between the brain and spinal cord).
She was referred to House with No Steps's early intervention centre in Forbes, NSW or 'Little Learners' as she had trouble with motor skills and poor 'head control'. She also needed speech therapy as she was showing no signs of speaking.
Initially Melinda struggled with her exercises.
Her mum, Amanda recalls, "Melinda hated these exercises because they were so difficult for her. We introduced 'key word signing' so she could communicate with us and it took a while for her to get it. She also hated physiotherapy because suddenly she was made to stand when for three years she didn't have to. We would walk into the hospital dreading it. I'm pretty sure I cried just as much as her."
Then suddenly, things changed. Amanda says, "One day it was like a light was flicked on and Melinda started signing and communicating like she had always been doing it. Soon she also started standing and walking with the help of a frame."
Amanda is very grateful to the staff at Little Learners for helping her daughter.
Melinda can now do basic self-care like feeding herself and playing. She also attends ballet classes which she loves and Amanda attributes that to the support and patience of Little Learners. "If it wasn't for all the help we got from Little Learners there is no way that would have happened."
Little Learners was also there for Amanda as she learnt to cope with her daughter's needs.
"I was struggling a lot with dealing with what was going on with Melinda and juggling it on my own. I just couldn't handle it and Little Learners got me the support I needed. They have always been there if I have needed advice or even just someone to talk to about what's going on and I couldn't be any more thankful for them," says Amanda.
Amanda took part in For Fitness Sake 2017 to raise funds for the wonderful program that has made such a difference in her life and in honour of her brave and wonderful Melinda!